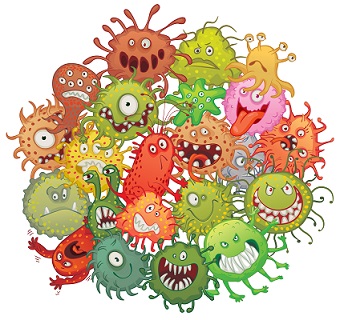 Biofilm Is Everywhere And On Everything

You find it on...
Counters, sinks, toilets, tubs, faucets, refrigerators, stoves, floors

Remote controls, cell phones, lamps, door knobs, reading glasses, tools, dashboards

Fruits, vegetables, meats,

Cutting boards, silverware, coffee pots, water bottles

Toys, rattles, baby bottles, pacifiers

Teeth, skin, catheters, sinuses, implants
All natural and chemical based products, including pet products, are ineffective at removing biofilm. If you do not clean away biofilm, nothing is really clean or protected.
BIOFILM IS ON ALL OF THE SURFACES ON AND AROUND YOU, YOUR FAMILY AND YOUR PETS, AND IT CAN MAKE YOU REALLY SICK OR KILL YOU!
Why You Should Be Concerned About Biofilm
We are in the Post Antibotic Era. Because of the overuse of antibacterial products and antibiotics, bad bacteria is turning into superbugs for which there are no antibiotics. Over two million people each year get sick from superbug infections, and 30,000 of them die. Superbugs live in biofilm (along with mold, mildew, fungus and viruses) this is one of the main reasons we developed our biofim cleaners.

According to the NIH (National Institute of Health) & the CDC (Center for Disease Control) "90% of harmful bacteria live in biofilm that cannot be cleaned away by the strongest disinfectant."
Only P2 Probiotics Remove Biofilm and Keep it From Returning!
Once applied to surfaces, P2 probiotics protect and clean for up to three days! Without biofilm, everything returns to its original luster AND is truly clean and free of harmful germs and viruses. (Click

here

to learn how P2 measures clean)
Biofilm is responsible for odors - eliminate biofilm, and you eliminate odors, as well as mold, mildew and fungus.
P2 probiotics eliminate biofilm by: 1) consuming the biofilm, 2) out-competing "superbugs" for the available food source (biofilm), and 3) continuing to eliminate the food source for bad bacteria for several days. This keeps nature balanced, which means no more creation of resistant superbugs.
Our products provide a truly safe, healthy, protective clean. Browse our shop or click the the following links to find Probotics for Allergies, Pets Probiotics, Natural Body Cleaning Probiotics or Probiotic Cleaning Products.
P2 Probiotic Products Are Imperative to The Future Health of Our Planet!